Up Is Down: Mid-Century Experiments in Advertising and Film at the Goldsholl Studio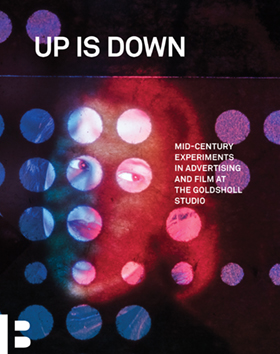 Amy Beste and Corinne Granof, ed.
Softcover | 2018 | $25 | ISBN 9781732568402 | 210 p.p. | 137 color illustrations
About the book
The first book to examine the innovative work of Goldsholl Design Associates and Its impact on design and film
Headed by Morton and Millie Goldsholl, the Goldsholl Design Associates worked at the intersection of art, design, and media, producing trademarks, corporate identities, print advertisements, television commercials, and films for such clients as Motorola, Kimberly-Clark, Revlon, 7-Up, and the National Football League. Although they have been compared to some of the most celebrated design firms of their day, the Goldsholls and their designers are relatively unknown today.
Inspired by the ideas and ideals of artist Laszlo Moholy-Nagy, with whom they had studied at Chicago's School of Design, Morton and Millie Goldsholl fostered a culture of exploration and collaboration in their studio. The firm became known for its imaginative "designs-in-film," applying avant-garde techniques to commercial productions. Its groundbreaking work in the new media of television helped redefine the look of everyday visual culture in mid-century America.
The trailblazing work of Goldsholl Design Associates remains an unexplored contribution within American design and advertising. Published in conjunction with the exhibition of the same name at The Block Museum of Art, Northwestern University, this volume's research explores how a new visual language emerged from Chicago's cross-fertilization of avant-garde aesthetics, business, and cutting-edge media.