A Feast of Astonishments: Charlotte Moorman and the Avant-Garde, 1960s-1980s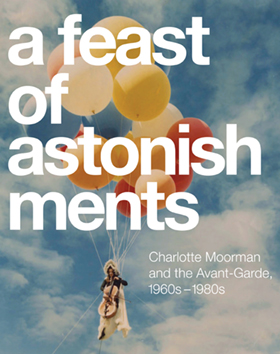 Lisa Graziose Corrin and Corinne Granof
Northwestern University Press and The Block Museum of Art
Softcover | 2016 | $25.00 | ISBN 9780810133273 | 224 p.p. | 9 x 10 | 150 color illus.
Charlotte Moorman was a bold, barrier-breaking musician and performance artist and a tireless champion of experimental art, whose avant-garde festivals in New York City brought new art forms to a broad public. To date, recognition of Moorman has been limited mostly to her collaborations with other artists, including composer John Cage and pioneering multimedia artist Nam June Paik, and to her 1967 performance of Paik's "Opera Sextronique," for which she became known as the "topless cellist" after being arrested on indecency charges. A Feast of Astonishments looks deeper to portray Moorman as a leading international figure in her own right.

With more than 150 color images and essays by art historians, curators, and musicologists, this catalog offers a fresh perspective and complement an exhibition that opened Northwestern University's Mary and Leigh Block Museum of Art in January 2016 before traveling to New York University's Grey Art Gallery in Manhattan and the Museum der Moderne in Salzburg, Austria. The exhibition featured original sculptures, photographs, video, props and costumes, annotated music scores, archival materials, film clips, and audio recordings, many drawn from the Charlotte Moorman Archive at the Charles Deering McCormick Library of Special Collections, Northwestern University Library.