If You Remember, I'll Remember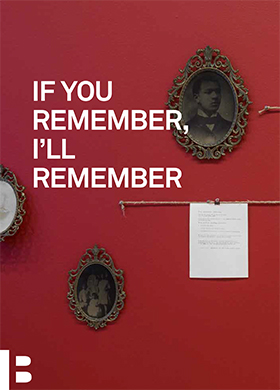 ContributorsJanet Dees and Susy Bielak, eds.
Distributed by
Northwestern University Press
Publication Date
July 2022
Page Count
130 pages
46 color illustrations
Trim Size
9.75 x 7
Paperback
Cost:
$25.00ISBN:
9781732568433
ABOUT
The exhibition If You Remember, I'll Remember (2017) at The Block Museum of Art, Northwestern University was an invitation to reflect upon the connection between the past and present through works of art. By engaging with topics such as the internment of Japanese Americans during World War II, Native American sovereignty, and African American struggles for civil rights, the exhibition offered an integrated view of the American past through the juxtaposition of histories that resonate with pressing contemporary social concerns. Exploring themes of love, mourning, war, relocation, and resistance in nineteenth- and twentieth-century America, it brought together the work of seven contemporary artists whose practices are based in archival research and incorporate historic documents and objects: Kristine Aono (b. 1960), Shan Goshorn (b. 1957-2018), Samantha Hill (b. 1974), McCallum & Tarry (active 1998-2013), Dario Robleto (b. 1972), and Marie Watt (b. 1967). This richly illustrated publication serves as a record of the exhibition, its related programs, and its in-depth engagement projects - from sewing circles focused on the theme of equity to conversations with internment camp survivors - developed through discussion and collaboration with artists and campus and community partners. The retrospective nature of the publication allows for the inclusion of participants' voices, and reflection upon the broader process of museums working closely with multiple stakeholders. This approach contributes a valuable case study to current methodological conversations about collaborations between artists, museums, and communities.
EDITORS
JANET DEES
 is the Steven and Lisa Munster Tananbaum Curator of Modern and Contemporary Art at The Block Museum of Art, Northwestern University
SUSY BIELAK is an artist, curator, and educator; she was formerly the Susan and Stephen Wilson Associate Director of Engagement and Curator of Public Practice at The Block Museum of Art, Northwestern University