Who Says, Who Shows, What Counts: Thinking about History with The Block's Collection (2021)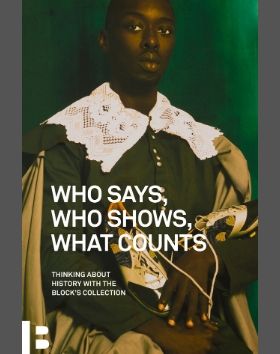 Contributors
Essi Rönkkö (Editor)
Kate Hadley Toftness (Editor)
Distributed by
Northwestern University Press


Trim Size
9.75 x 7
Cost:
Trade Paper – $25.00

ISBN:
978-1-7325684-2-6
ABOUT THE BOOK
Who Says, Who Shows, What Counts: Thinking about History with The Block's Collection invites readers to think critically about how artists, artworks, and museums engage with narratives of the past. Highlighting more than fifty contemporary artworks recently acquired by the Block Museum of Art at Northwestern University, the book considers our constantly changing understanding of the past through the lens of artistic practice.
Richly illustrated and written for a general audience, this book showcases the depth and breadth of recent acquisitions to the Block Museum of Art's collection, including a wide-ranging selection of works by artists Dawoud Bey, Shan Goshorn, the Guerrilla Girls, Marisol, Kerry James Marshall, Catherine Opie, Man Ray, Cindy Sherman, Thomas Struth, Tseng Kwong Chi, and Kara Walker, among others. The book is a companion publication to the 2021 exhibition of the same name, presented to celebrate the museum's fortieth anniversary.

Consisting of contributions by students, faculty, Block curators, and Northwestern staff from across the University community, fifty short essays reflect the perspectives of more than twenty different academic departments including Anthropology, African American Studies, Art History, Art Theory and Practice, Classics, Communication Studies, Comparative Literature, Economics, Education & Social Policy, Engineering, English, Gender & Sexuality Studies, Journalism, History, Materials Science, Performance Studies, Psychology, Radio/Television/Film, Spanish and Portuguese, and Sociology.  As a whole, the book exemplifies the ways in which works of art can encourage critical thinking across fields of inquiry. Additional illustrated chapters introduce the history of the Block's collecting practice and collecting mission today.
The book draws inspiration from a work by conceptual artist Louise Lawler, Who Says, Who Shows, Who Counts (1990), and is organized around challenging questions of historical representation within artworks and institutions: How can art help us reflect upon, question, rewrite, or reimagine the past? Who has been represented in visual art, how, and by whom? How is history etched onto a landscape or erased from it? How do museums and dominant canons of art history shape our view of history and of the past?
More than a collection catalogue, Who Says, Who Shows, What Counts demonstrates how an academic art museum's collection can facilitate multidisciplinary connections and tell stories about issues relevant to our lives.
ABOUT THE EDITORS
KATE HADLEY TOFTNESS is the Senior Advancement Manager, Grants and Collection Council at the Block Museum of Art at Northwestern University. Her previous work, at Rebuild Foundation, an arts nonprofit on the South Side of Chicago led by artist Theaster Gates, the Smart Museum of Art at the University of Chicago, and the Yale University Art Gallery, has focused on collections-based engagement programs.
ESSI RÖNKKÖ is the assistant curator of collections at the Block Museum of Art at Northwestern University. She worked for the Hood Museum of Art at Dartmouth College from 2009 to 2015, before joining the Block in 2016. Her work has focused on connecting collections to academic curricula. She is the coeditor of Portrait of a Child: Historical and Scientific Studies of a Roman Egyptian Mummy (2019).